News
Amnesty calls on Canada to arrest George W. Bush
Amnesty International wants the federal government to arrest former U.S. president George W. Bush when he visits British Columbia next week.
The rights body said both Canadian and international law require Canada to detain Bush and investigate him for war crimes and torture.
"It is incumbent upon Canadian officials to investigate, arrest and prosecute former president Bush for torture when he arrives in Canada a week tomorrow," said Alex Neve, Amnesty Canada's secretary general.
Bush and former president Bill Clinton are scheduled to attend an economic conference in Surrey, B.C. next week.
Neve said many will argue that arresting Bush is unrealistic because the United States is a close and powerful ally or that the crisis after 9-11 required extraordinary measures.
"None of those arguments justify inaction under international law," he said.
Neve conceded that arresting a former president would likely cause tension with the United States, but "taking a principled step merits that sort of strain."
Neve said Bush admitted in his memoirs that he authorized the use of torture against terror suspects.
American authorities used a variety of torture methods, including water boarding, beatings and sleep deprivation, Neve said.
The Bush administration used euphemisms such as "enhanced interrogation techniques," but these methods constituted torture.
"All of this was authorized and condoned and put in place through his own repeated decisions."
Neve said the international arm of Amnesty sent a lengthy brief to Justice Minister Rob Nicholson outlining the government's responsibilities under international law and urging him to act.
"This is something the entire global movement stands behind," Neve said.
Nicholson's office did not respond to a call for comment on Amnesty's demand.
Social media pummels CBC's Kevin O'Leary for nasty Wall Street protest interview
By Steve Mertl | Daily Brew
Kevin O'Leary of CBC's Dragons' Den and Shark Tank cultivates the persona of a ruthless truth-teller.
But he came across as a shallow blowhard during an interview on his Lange & O'Leary Exchange show with Pulitzer Prize-winning journalist Chris Hedges in New York about the Occupy Wall Street movement.
The Twitterverse backlash against the bullet-headed Toronto businessman was equally brutal.
Hedges, a former New York Times foreign correspondent and prolific author on social issues, sympathizes with the protesters camped on Wall Street. But he might have been forgiven for thinking an interview on Canada's public TV network would be a little more high-toned.
Instead, O'Leary tore into Hedges, whom he misidentified as a protest organizer, and denigrated the protesters with oft-repeated criticism that they're unfocused and leaderless.
"They want to reverse the corporate coup that's taken place in the United States, that's rendered the citizenry impotent," Hedges replied.
"You sound like a left-wing nutbar," O'Leary said.
Open letter to Surrey BC City Council: Mayor Diane Watts and Councillors
George W. Bush proposed visit to Surrey BC on October 20, 2011
Surrey Council doesn't respond to communications regarding their legal duties
Mayor Watts and Councillors have been advised of Canada's legal obligations to either bar George W. Bush from Canada, prosecute him for torture or extradite him to a country willing and able to do so. This advice has been given by:
1. Lawyers against the War (LAW) in LAW's August 25/11 letter signed by Gail Davidson and Professor Francis Boyle; and,
2. The Center for Constitutional Rights (CCR) and the Canadian Centre for International Justice (CCIJ), via a Letter to Attorney General Rob Nicholson outlining Canada's duty to investigate and prosecute George W. Bush for torture and 70-page Factual and legal brief for prosecution of George W. Bush pursuant to the Canadian Criminal Code and the Convention against Torture .
The Mayor and Council have also been offered the opportunity to further inform themselves about the law applicable to the Bush visit and their legal duties as elected representatives as follows :.
1. On Sept. 15/11 Gail Davidson asked to meet with the mayor to, "explain Canada's legal obligations to prevent G.W. Bush…from having safe haven from prosecution in Canada."
2. On Sept. 28/11 the Mayor and Councillors were invited to attend the free information session hosted by CCR and CCIJ in order to, "to be better informed about Canada's universal jurisdiction…and your duties."
The Mayor and Councillors were asked by LAW on Sept. 21/11 to advise Bush that unless and until the war crimes accusations against him have been dismissed by a competent court, he is not welcome in Surrey or in Canada.
The Mayor and Councillors have maintained an irresponsible silence to these communications. A meeting with LAW scheduled by the mayor's office was postponed with no offer of an alternate date.
We attach a list of questions for the Mayor and Councillors and ask for a full response on or before October 15, 2011.
Gail Davidson
The following questions are addressed to the Mayor of Surrey BC and all Councillors
1. Do you think torture should be a 'zero-tolerance' crime in Canada (not allowed under any circumstances) or does she think torture should be allowed in some circumstances?
2. Are you aware that once George W. Bush enters Canada, all the torture he is accused of is deemed to have occurred in Canada?
3. Do you know that Bush had to cancel his February 2011 visit to Switzerland because of the risk of being arrested on arrival in the United Kingdom (UK) for authorizing the widespread use of torture while he was President of the United States?
4. Do you know that London's Mayor, Boris Johnson warned Bush that the law in the UK and other European countries requires that Bush be arrested and prosecuted for torture?
5. Will you, as a member of Surrey City Council be inviting other suspected war criminals to Surrey BC?
6. Do you understand Canada's legal duty to ensure that Canada does not provide safe haven from prosecution to Bush and other foreign nationals suspected of complicity in torture and other war crimes and crimes against humanity?
7. Do you know that Canada's duty to prevent and punish torture by refusing safe haven to suspected perpetrators is a legal duty owed to all humankind?
8. Will you continue to violate this legal duty as long as you are able to do so?
9. What assurance that Bush will not be prevented from entering Canada and/or arrested on arrival has been made to the City of Surrey and who has made such assurance(s)?
10. Have you received or been made aware of advice that Surrey City Council can get away with providing safe haven from prosecution to George W. Bush? Who has provided that advice?
11. What assurances have you received or been made aware of that the RCMP will not arrest Bush while he is in Surrey BC?
12. What RCMP services are being put in place for the visits of Bush and Clinton?
13. What police and security services and programs are planned specifically for the Bush visit?
14. What is the anticipated cost of the Bush and Clinton visits to Surrey?
15. What is the anticipated revenue from the Bush visit?
16. What is the estimated cost of the extra RCMP services?
Why Palestine Is Already a State (Part One)
Joe Lauria
Huffington Post
A combination of mistakes -- whether through ignorance or design -- and significant omissions of fact have left the American public misinformed about why the Palestinians have gone to the United Nations and what they are trying to achieve.
The biggest error repeated across the media in hundreds of headlines and stories is that the Palestinians are seeking statehood at the U.N. In fact, Palestine is already legally a sovereign state and is seeking membership of the United Nations, not statehood. The United Nations does not grant or recognize statehood. Only states can recognize other states bilaterally. The U.N. can only confer membership or "non-member, observer state" status to already-existing states. The U.N. Charter is clear. Article 4 says that only existing states may apply for U.N. membership.
Secretary-General Ban Ki-moon accepted an application for U.N. membership from PLO Chairman and Palestinian Authority President Mahmoud Abbas on September 23. Secretary-General Ban Ki-moon sent the application to the Security Council, which began deliberating on it three days later.
The very act of the secretary-general accepting the membership application is an acknowledgement from the U.N. that Palestine is already a state, since only states can apply.
The Montevideo Convention of 1933 lays out the requirements for statehood: a population living on a defined territory with a government that can enter into relations with other governments. The Palestinians have all three. Though its borders with Israel are not set, other countries with border disputes have been admitted as U.N. members, such as Pakistan and India. Trygve Lie, the first U.N. secretary-general, also wrote a 1950 memo that states do not need universal recognition to apply.
Palestine declared its independence on November 15, 1988, a fact found nowhere in the American mainstream reporting of the past week. A Palestinian walked out of the Al Asqa Mosque that day in Al Quds/Jerusalem and read the declaration aloud, much as someone read the American Declaration of Independence to a crowd in the courtyard of the Philadelphia State House on July 4, 1776.
Almost immediately 100 nations recognized an independent Palestinian state. Since then 30 more nations have recognized Palestine, some having opened Palestinian embassies in their capitals. This crucial fact too was not reported in the U.S. media. For Palestinians and those countries that recognize them, Israeli troops are occupying a sovereign nation.
It was the same as when Morocco and then France and other nations recognized an independent United States years before the war against Britain was won. For Americans and those nations recognizing America, British troops became an occupation force, not an army defending British territory.
The problem for the Americans then and for the Palestinians now is that the occupying nation and the world's biggest power are not among the 130 who've recognized them.
If there were a United Nations in 1777 the Americans could have applied for membership. And if Britain had a veto on the Security Council then as it does now, it would have blocked that membership.


see full article
Hundreds in Vancouver Protest and Demand Arrest of Dick Cheney !! : Parental Advisory
Occupy Vancouver
Saturday, October 15th, 2011
Vancouver Art Gallery
Occupy Vancouver - A Non Violent Movement
for Social, Economic and Political Change
http://www.occupyvancouver.com/
General Meeting Planned for Oct. 8th
W2 Media Cafe - 111 W. Hastings St. Saturday, October 8 - 1:00pm If you are interested in helping moderate, organize, and/or volunteer at this meeting please email occupyvancouver@gmail.com
Obama Admin Refuses To Offer ANY Proof Anwar Al Awlaki Was Involved In Terrorist Activity
9/11: Explosive Evidence - Experts Speak Out, Full-length, Pre-Release-v1.3; Low-Res
http://www.youtube.com/watch?v=lw-jzCfa4eQ
Join 23-year architect Richard Gage, AIA, in this feature length documentary with cutting-edge 9/11 evidence from more than 50 top experts in their fields -- high-rise architects, structural engineers, physicists, chemical engineers, firefighters, metallurgists, explosives experts, controlled demolition technicians, and more. Each is highly qualified in his/her respective fields. Several have Ph.D's -- including National Medal of Science awardee Lynn Margulis. She, along with the other experts, exposes the fraud of NIST and discusses how the scientific method should have been applied and acknowledges the "overwhelming" evidence of high temperature incendiaries in all dust samples of the WTC. High-rise architects and structural engineers layout the evidence in the features of the destruction of these three high-rises that point inevitably to explosive controlled demolition.

9/11 family members and psychologists ground the technical information with heart centered support for a new investigation and a close look at the psychology of 9/11in this milestone production of AE911Truth: http://911ExpertsSpeakOut.org
MSNBC Reporter SLAMS NYC Police Brutality! • Occupy Wall Street
Vancouver! Arrest George W. Bush
Time
Thursday, October 20 · 7:30am - 2:00pm

Location
Sheraton Vancouver Guildford Hotel

15269 104th Avenue
Surrey, BC

Surrey Mayor Dianne Watts today announced that President George W. Bush will be one of the featured speakers at the fourth annual Surrey Regional Economic Summit on October 20, 2011.
Canada is a signatory to an international treaty banning torture, Davidson said, and that means the federal government is obliged to deny the former U.S. President entry into Canada.
Gail Davidson speaks for Lawyers Against the War,
"If he does enter Canada, then the government has the obligation to prosecute him when he's on our soil."
Prosecute George Bush. Oppose his invitation to Surrey, BC.
http://www.facebook.com/event.php?eid=213511235374216
Wall Street protests head west
The Occupy Wall Street protests are heading west to other cities. Many say that people from all backgrounds are coming together because it is known that the US is in trouble and something needs to change. Luke Rudkowski, independent journalist, tells us what it was like on the streets in NYC.
Vancouver police chief Jim Chu refuses to arrest Dick Cheney, so what's next?
By Charlie Smith
September 27, 2011
The Vancouver police refused to arrest former U.S. vice president Dick Cheney when he spoke to a prosperous crowd last night at the Vancouver Club.
This is despite a declaration by a leading U.S. human-rights group on the weekend that Canada was obligated to investigate "overwhelming evidence" of torture committed by the Bush administration, including at least two cases involving Canadian citizens (Maher Arar and Omar Khadr).
"In addition, Canadian law expressly provides for jurisdiction over an individual for torture and other crimes if the complainant is a Canadian citizen, even for offenses committed outside of Canada," New York-based Human Rights Watch stated. "Canada ratified the Convention against Torture in 1987 and incorporated its provisions into the Canadian criminal code."
So what can citizens do when their police don't enforce the law in the face of overwhelming evidence?
One option would be to lay a complaint against Vancouver police Chief Jim Chu with the Office of the Police Complaint Commissioner .
Video footage of the event (see below) clearly demonstrates that police were asked to take action, and refused to do so.
On the weekend, a group called Lawyers Against The War wrote a letter to Chu advising him of his duty to arrest Cheney if he arrived in Vancouver.
"As you are aware, the duty of the VPD to investigate and prevent statutory crimes arises from both the common law and the Police Act, which imposes a mandatory duty on police officers to prevent crimes and offences against the administration of justice," Vancouver lawyer Gail Davidson wrote in the letter. "In accordance with the Criminal Code, Mr. Cheney's arrest can be carried out without warrant and in advance of the commencement of criminal proceedings."
Under Section 269.1 of the Criminal Code of Canada, torture is an indictable offence with a maximum 14-year prison sentence. It's also illegal under the Crimes Against Humanity and War Crimes Act, which is federal legislation.
Chu disregarded Davidson's unsolicited legal advice.
Under Section 77(1)(b) of the Police Act, a public-trust offence is, among other things, anything that would "discredit the reputation of the municipal police department with which the member is employed".
Under Section 78(2)(a), anyone can file a complaint that Chu committed a public-trust offence under Section 77(1)(b) of the Police Act by failing to arrest Cheney.
Under the Police Act if the complaint cannot be resolved informally, any investigation cannot be conducted by an officer of a lower rank. This means that another chief would be required to examine the evidence.
History will not be kind to Cheney. As Derrick O'Keefe, one of the leaders last night's protest, put it: "Cheney lied, millions died, we demand he must be tried."
Dick Cheney visit
CBC
Some protesters tried to prevent paying guests from attending a book reading by the former U.S. vice-president, the CBC's Leah Hendry reports
[Video]
http://www.cbc.ca/video/#/Shows/1221254309/ID=2145187805
Hundreds of protesters demand Dick Cheney's arrest during Vancouver appearance
By Matthew Burrows
September 27, 2011
Long-time media commentator Charles Boylan speculated around 300 protesters were at the Vancouver Club on Monday night (September 26) "at its peak" as locals voiced their opposition to the downtown presence of Dick Cheney.
The former U.S. vice-president, whom one local lawyer has labelled a "mass murderer", was scheduled to speak at the Vancouver Club on West Hastings Street at a $500-a-head dinner to promote his memoirs. Dozens of police sealed off the two entrances to the club, while others used force to push back protesters as delegates struggled to get inside and catch Cheney's speech.
But outside everybody was united in their disgust that Cheney, whom they called a war criminal, was not arrested by Vancouver police. Gail Davidson, founder of Lawyers Against the War, was present and continued to insist Cheney should be arrested and tried for war crimes and torture.
"I like the fact that so many people from different walks of life have taken time out of their work and their personal lives to come and voice their opposition to the [Canadian federal] government refusing to enforce the law," Davidson told the Straight .
Dead NASA satellite plunges into the Pacific, exact location unknown
Yahoo News
The two government agencies said the satellite fell sometime between 11:23 p.m. ET Friday and 1:09 a.m. ET Saturday, but with no precise time or location.
There was rampant speculation on the Internet, much of it focusing on unconfirmed reports and even video of debris from the Upper Atmosphere Research Satellite over Alberta.
Jonathan McDowell of the Harvard-Smithsonian Center for Astrophysics said the spacecraft entered the atmosphere around 12:15 a.m. ET over the coast of Washington state. He said much of the debris likely fell over the Pacific Ocean, with some making it to Canada over northern Alberta and perhaps as far as the Hudson Bay.
"Pieces are falling off of this flaming fire ball, and some of it has enough momentum to go hundreds of miles," he said.
Watch out for that satellite!
" Experts call this type of satellite an orbital trolleybus. You need a lot of energy to keep such a satellite operational. And Americans have used radioactive plutonium for this. Metal and other parts of the satellite will burn in the atmosphere, but plutonium won't and it will end up on earth, " the expert told RT. " And it's a deadly danger to humans, for instance, exposure to plutonium leads to cancer ."
Fish Tests Radiation-negative, But Where's It From?
By Wawmeesh Hamilton
September 20, 2011
Indian Country Today Media Network
The Canadian Food Inspection Agency (CIFA) has deemed fish tested in the wake of the Japan nuclear disaster as radiation free, but will not divulge where samples were taken from.
According to the CFIA, results from 12 fish samples showed minimal detectable levels of the radioactive particles Cesium -134 and Cesium -137. The results are below Health Canada's "actionable levels," said CFIA spokesperson Mark Clarke. The CFIA released the results of its tests on Friday, September 16.
West Coast salmon migration routes are near waters that are feared contaminated with radioactive fallout from the nuclear reactor that was damaged by the earthquake and subsequent tsunami in Japan last spring. The agency did not answer repeated questions about where the samples were taken from in B.C., saying only that they were came from various processing stations.
The testing was done just as a precaution , authorities said. They had not expected to find anything. They waited till now because, although the twin disasters happened in March, the fish did not return to spawn until now.
Stó:lo Tribal Council fisheries advisor Ernie Crey said he is puzzled at the agency's reticence about where the fish were taken from.
"It's this kind of response from government officials that give rise to suspicion among Canadians," Crey told Indian Country Today Media Network. "There is simply no good reason to withhold this information from the public."
Testers could have picked the fish up from a processing plant, caught them on a recreational fishing charter or bought them from a commercial boat, Crey said.
CFIA will continue to monitor the situation in Japan and assess impacts on Canada's food supply. But "no additional testing is planned," CFIA spokesperson Alice d'Anjou said.
Fish continue to migrate through waters affected by the reactor disaster, Crey said. Therefore salmon testing should be longitudinal, he said. If long-term testing isn't carried out and something is found later, then there could be consequences from the top down, he added.
Crey recalled Canada's 1985 'Tuna-gate' scandal, in which tuna found by officials to be unfit for human consumption was later given political assent to be sold.
"The minister and likely several people down the line lost their jobs over that," Crey said. "Those are the kind of consequences that current and future politicians responsible for public health can expect over this if something is found down the road."
see article
Netanyahu proved Israel doesn't want peace
Netanyahu shows to the world that Israel wants neither an agreement nor a Palestinian state, and for that matter not peace, either.
By Gideon Levy
On Friday night Prime Minister Benjamin Netanyahu once again proved himself to be an excellent elucidator, this time in the service of the Palestinians: He demonstrated to the world, better than even Mahmoud Abbas, why they had no recourse but to appeal to the United Nations. If there is one clear take-home message from his Hezekiah and Isaiah speech, it is this: The Palestinians (and the world ) can no longer expect anything from Israel. Nothing.
Netanyahu was particularly persuasive when he explained that a Palestinian state would endanger Israel - narrow waist, just hundreds of meters from Israeli cities, thousands of rockets - one giant blah-blah that willfully ignores the possibility of peace. A Palestinian state, perhaps, but absolutely not in our time, and not in our school of thought.
Al-Jazeera - Mouthpiece for the US State Department?
The Arab Spring has changed the dynamics of the Arab world and it also changed the dynamics between Arab media and the US - especially when it comes to Al-Jazeera. It wasn't long ago that Washington was criticizing the TV network for running Osama bin Laden videos, for instance. But now the tune has changed with US Secretary of State Hillary Clinton praising the network and other alternatives to the mainstream. RT's Annissa Naoui has more.
Nearly 1 in 4 young children now live in poverty in U.S.
By Eric W. Dolan
Thursday, September 22nd, 2011
The number of children living in poverty in the United States increased by 2.6 million since the recession began in 2007, bringing the total to an estimated 15.7 million poor children in 2010, according to researchers from the Carsey Institute at the University of New Hampshire.
The researchers estimate that nearly 1 in 4 children under the age of 6 now live in poverty.
Big cities and rural areas have the highest rates of poverty among young children. Thirty-one percent of children under age 6 in America's cities and 30 percent of young children in rural areas are poor.
In contrast, 19 percent of young children living in the suburbs are poor.
"It is important to understand young child poverty specifically, as children who are poor before age 6 have been shown to experience educational deficits, and health problems, with effects that span the life course," the researchers said.
The report was based on the U.S. Census Bureau annual report on poverty, which outlined the dramatic decline in income and employment in the U.S. The definition of poverty was an annual income of $22,314 for a family of four, and $11,139 for a single person in 2010.
The census data showed the median annual household income falling 2.3 percent to $49,445. The 46.2 million Americans living in poverty is the highest amount since the Census began recording the statistic 52 years ago.
see full article
Pic of the Day
Netanyahu must be stopped from attacking Iran
This must be said, and clearly: No leader has either the moral authority or the strategic possibility of endangering tens of thousands of citizens before doing everything possible to make Israel beloved of the West.
By Sefi Rachlevsky
Is it likely that Benjamin Netanyahu will announce at the United Nations that several Israeli aircraft have just returned from Iran? At first glance, no.
But worry over this issue doesn't stem only from the assurance given by the prime minister's friend, Dick Cheney, that Israel will attack; or from the messianic statements about a possible attack that Haaretz has recently quoted Netanyahu and Defense Minister Ehud Barak as making in closed forums; or from former Mossad chief Meir Dagan's warning that an attack will occur in the waning days of September in response to Israel's increasing international isolation; or from heightened anxiety caused by the imminent closure of the operational window of opportunity.
Arrest This Dick
Download and print these PDF's for use as signs or posters
(right click - save target as...)
Protest War Criminal Dick Cheney in Vancouver
http://www.facebook.com/event.php?eid=154483901306055
Time:
Monday, September 26 · 5:30pm - 7:00pm

Location:
Outside the 'Vancouver Club'
915 W. Hastings

Vancouver, BC
For:
More Info:
The misnamed 'Bon Mot Book Club' in Vancouver is hosting war criminal and unrepentant torture and war advocate Dick Cheney at the Vancouver Club on Sept. 26.
Under international and Canadian law, he should be banned from entering the country or arrested upon arrival. In is outrageous that the Harper government, which has on a number of occasions banned anti-war speakers and other social justice activists from entering Canada, would allow this war criminal to enter Canada to promote his new book.
Join us in giving Cheney the welcome he deserves. Please share your creative ideas for this action.
Cheney Book Event info here: http://events.linkedin.com/Conversation-Vice-President-Dick-Cheney/pub/768255
Vancouver lawyer Gail Davidson seeks Dick Cheney's arrest
By Carlito Pablo , September 8, 2011
Dick Cheney is coming to town on September 26 to promote his book In My Time: A Personal and Political Memoir . But Vancouver lawyer Gail Davidson has other plans for one of the most controversial figures of the modern era, a powerful man who publicly admitted having allowed torture.
The cofounder of the international group Lawyers Against the War wants the government of Canada either to bar the former U.S. vice president from entering the country or, if he's allowed in, to arrest and prosecute him for torture, war offences, and crimes against humanity. And if Canada isn't keen on punishing the ex–vice president to former president George W. Bush, Davidson argues, then it should extradite Cheney to a country that is willing and able to prosecute him.
One of the most vocal defenders of U.S. foreign policy, specifically the invasions of Afghanistan and Iraq, Cheney is the first featured speaker in the 2011–12 series of Vancouver's Bon Mot Book Club.
"It's a bit chilling that they would invite a mass murderer as their guest to Canada," Davidson told the Georgia Straight by phone, "when any one of them would know full well that because of the founded accusations made against Mr. Cheney, that he's persona non grata in Canada, being accused of international crimes, torture, war crimes, and crimes against humanity."
Organizer Leah Costello explained that the Bon Mot Book Club is an "intimate and exclusive high-end dinner series", wherein her company Curious Mind Productions Inc. brings in world leaders and other high-profile speakers. Cheney will speak at a dinner event at the Vancouver Club.
"I haven't heard anything yet," Costello told the Straight by phone, when asked if she expects protests to greet Cheney. "But I have heard that he's a controversial figure. That's for sure."
In a recent NBC interview, Cheney declared that he had "no regrets" that the American government used torture against terrorism suspects.
Asked if the U.S. should still use widely condemned techniques like waterboarding, Cheney responded: "I would strongly support using it again if circumstances arose where we had a high-value detainee and that was the only way we could get him to talk."
According to Davidson, the government is obliged under local and international laws—such as the United Nations' Convention Against Torture and Other Cruel, Inhuman or Degrading Treatment or Punishment—to deny safe haven and prosecute persons accused of crimes like torture. Davidson is writing Prime Minister Stephen Harper and key cabinet ministers to outline evidence against the Bush administration and its senior officials.
10 Most Radioactive Places on Earth
While the 2011 earthquake and worries surrounding Fukushima have broughtthe threat of radioactivity back into the public consciousness, many people still don't realize that radioactive contamination is a worldwide danger. Radionuclides are in the top six toxic threats as listed in the 2010 report by The Blacksmith Institute, an NGO dedicated to tackling pollution. You might be surprised by the locations of some of the world's most radioactive places — and thus the number of people living in fear of the effects radiation could have on them and their children.
10. Hanford, USA
The Hanford Site, in Washington, was an integral part of the US atomic bomb project, manufacturing plutonium for the first nuclear bomb and "Fat Man," used at Nagasaki. As the Cold War waged on, it ramped up production, supplying plutonium for most of America's 60,000 nuclear weapons. Although decommissioned, it still holds two thirds of the volume of the country's high-level radioactive waste — about 53 million gallons of liquid waste, 25 million cubic feet of solid waste and 200 square miles of contaminated groundwater underneath the area, making it the most contaminated site in the US. The environmental devastation of this area makes it clear that the threat of radioactivity is not simply something that will arrive in a missile attack, but could be lurking in the heart of your own country.
9. The Mediterranean
For years, there have been allegations that the 'Ndrangheta syndicate of the Italian mafia has been using the seas as a convenient location in which to dump hazardous waste — including radioactive waste — charging for the service and pocketing the profits. An Italian NGO, Legambiente, suspects that about 40 ships loaded with toxic and radioactive waste have disappeared in Mediterranean waters since 1994. If true, these allegations paint a worrying picture of an unknown amount of nuclear waste in the Mediterranean whose true danger will only become clear when the hundreds of barrels degrade or somehow otherwise break open. The beauty of the Mediterranean Sea may well be concealing an environmental catastrophe in the making.
Lupe Fiasco on Building 7, 911 truth and New World Order
Lupe Fiasco - Words I Never Said ft. Skylar Grey [Music Video]
http://www.youtube.com/watch?v=22l1sf5JZD0&ob=av2e
We Are Change at Times Square: Do You Support A New 9/11 Investigation?




9/11: A Conspiracy Theory
http://www.youtube.com/watch?v=yuC_4mGTs98
How the world changed after 9/11
On the day of September 11, Charlie Skelton attends a symposium of critical thinkers in New York
The heavy syllables of the victims' names boomed out along the streets around Ground Zero. The public were patted down, then allowed up a cramped side road to peer at a distant video screen of the memorial. They filmed the video screen on their mobile phones, filmed each other filming, and film crews filmed them filming.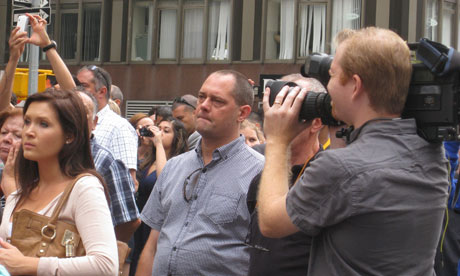 It was hardly fertile ground for grief, you'd think. And yet, the weird detachment of the moment was severed by the chanting of the names and the brief tributes of the readers. It was the daughter who said her father's friends tell her that she reminds them of him that did it for me. That, and the list of victims called Jones. Jones after Jones after Jones. Too many Joneses. I took my sniffles back up the street to Starbucks.
And from Starbucks, I went down the rabbit hole. I found myself at a conference on Walker Street called 'How The World Changed After 9/11'. It was packed, but I managed to slide in at the back, to hear a guy called Webster Tarpley chant his own list of names. The names of the 46 military exercises and hijack drills (called things like 'Vigilant Guardian') that were actually taking place on the morning of September 11. "The greatest density of drills in US military history," Tarpley said.
Fake radar blips, dummy hijacks, dummy attacks, fighter jets sent off to Turkey, the skies left unprotected, with the FBI's top anti-terror experts stuck on a training exercise in California. The drills, said Tarpley, were important, because not only did they weaken and confuse US air defence, but there was also a military drill for each major component of the 9/11 attacks. The drills were cover, and the dummy threats were made real.
September 11, he argues, was a coup carried out by a rogue network within the US military and government. A cabal of fascists, working with (and for) a banking oligarchy, "the old boys of Wall Street".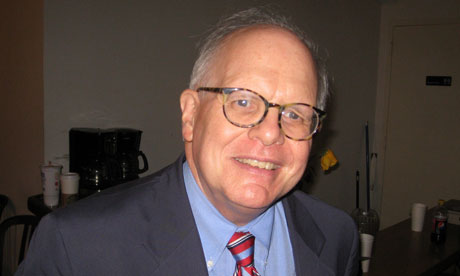 "You want to blame Saudi Arabia, or Israel, or Pakistan? You can't. There isn't the evidence." The evidence, Tarpley says, points towards 9/11 as a false flag attack, carried out by a high level clique, that forced a shocked and awestruck US public into a vast and still ongoing war. It was America's very own Reichstag fire. And the official version of the event? "A racist, militaristic, and fascist myth that we must reject."
What I heard, from speaker after speaker, was a heartfelt desire to turn away from the path of destruction, militarism and lies that America has been set upon after 9/11. Ray McGovern, a former CIA analyst, mourned for Iraq: "One million dead, 4m displaced, and that's a victory?" He sees the failure of Americans to comprehend the scale of the destruction wrought under their flag as nothing less than racist. "In America, we are very good at segregating our tears. Racism is our original sin."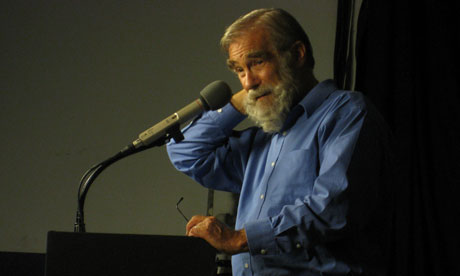 Vancouver 9/11 truthers still seeking answers 10 years later
By Carlito Pablo , September 9, 2011
A busy weekend awaits Darren Pearson and other members of the Vancouver 9/11 Truth Society .
And as the world marks the 10th anniversary of the most audacious act of terrorism against the U.S., Pearson offers one explanation why many continue to challenge the American government's official version of the events of September 11, 2011.
"What could explain the resilience of the 9/11 truth movement is the truth," Pearson told the Straight in a phone interview. "There's nothing else to explain it except the truth matters to a lot of people."
Pearson is also confident that the four-day independent hearings in Toronto that started on September 8 will eventually lead to the prosecution of people who had a hand in 9/11.
"There's nobody who would suggest it wasn't a conspiracy," Pearson said. "It was a conspiracy. It's just which theory are we going to accept."
Pearson believes there's one good starting place. "The one that has scientists and credible people saying that the official government story is completely a lie, completely from start to finish," he said. "There's no credible evidence of Muslim hijackers, there's no credible evidence of hijackers, so unless somebody's going to argue that point with me or with anybody you can't go to the next step. You can't accept the whole story when the premise is a lie."
The Vancouver 9/11 Truth Society will pitch a tent and display its "truth bus" at the annual Davie Day Street Festival starting Saturday (September 10) morning.
It will co-host a ticketed screening of the documentary film 9/11: Explosive Evidence - Experts Speak Out at the Denman Cinema at 6:30 p.m. According to Pearson, a free showing of the film will also be made at the Carnegie Community Centre at 6 p.m. the same day.
On the big day, September 11, the group will co-host with the Zeitgeist Movement a festival on the grounds of the Vancouver Art Gallery. Featuring bands and speakers, the event will start at 12 noon.
see full article
9/11/2011 - Ten Years, No Justice
SUPPRESSED DETAILS OF CRIMINAL INSIDER TRADING LEAD DIRECTLY INTO THE CIA's HIGHEST RANKS
CIA EXECUTIVE DIRECTOR "BUZZY" KRONGARD MANAGED FIRM THAT HANDLED "PUT" OPTIONS ON UAL (United Airlines)
by Michael C. Ruppert
[© COPYRIGHT, 2001, Michael C. Ruppert and FTW Publications, www.copvcia.com . All Rights Reserved. - May be reprinted or distributed for non-profit purposes only.]
FTW, October 9, 2001 -
.....
- Between September 6 and 7, the Chicago Board Options Exchange saw purchases of 4,744 put options on United Airlines, but only 396 call options. Assuming that 4,000 of the options were bought by people with advance knowledge of the imminent attacks, these "insiders" would have profited by almost $5 million .
- On September 10, 4,516 put options on American Airlines were bought on the Chicago exchange, compared to only 748 calls. Again, there was no news at that point to justify this imbalance; Again, assuming that 4,000 of these options trades represent "insiders", they would represent a gain of about $4 million .
- [The levels of put options purchased above were more than six times higher than normal.]
- No similar trading in other airlines occurred on the Chicago exchange in the days immediately preceding Black Tuesday.
- Morgan Stanley Dean Witter & Co., which occupied 22 floors of the World Trade Center, saw 2,157 of its October $45 put options bought in the three trading days before Black Tuesday; this compares to an average of 27 contracts per day before September 6 . Morgan Stanley's share price fell from $48.90 to $42.50 in the aftermath of the attacks. Assuming that 2,000 of these options contracts were bought based upon knowledge of the approaching attacks, their purchasers could have profited by at least $1.2 million .
- Merrill Lynch & Co., which occupied 22 floors of the World Trade Center, saw 12,215 October $45 put options bought in the four trading days before the attacks; the previous average volume in those shares had been 252 contracts per day [a 1200% increase!] . When trading resumed, Merrill's shares fell from $46.88 to $41.50; assuming that 11,000 option contracts were bought by "insiders", their profit would have been about $5.5 million .
.....
Dick Cheney to speak at The Vancouver Club, September 26th
By Michael Tippett
– August 31, 2011Posted in: Politics, Vancouver
Dick Cheney, perhaps the most divisive figure in recent American Political life, will be defending his record and promoting his new book in Vancouver later this month.
Bon Mot Book Club – Buy Tickets .
Vancouver Arrest George Bush
http://www.facebook.com/event.php?eid=213511235374216
Time:
Thursday, October 20 · 7:30am - 2:00pm
Location:
Sheraton Vancouver Guildford Hotel
15269 104th Avenue
Surrey, BC
Surrey Mayor Dianne Watts today announced that President George W. Bush will be one of the featured speakers at the fourth annual Surrey Regional Economic Summit on October 20, 2011.

Canada is a signatory to an international treaty banning torture, Davidson said, and that means the federal government is obliged to deny the former U.S. President entry into Canada.

Gail Davidson speaks for Lawyers Against the War,
"If he does enter Canada, then the government has the obligation to prosecute him when he's on our soil."

Prosecute George Bush. Oppose his invitation to Surrey, BC.
French research suggests cesium-137 from Fukushima has arrived in Metro Vancouver
Charlie Smith
September 3, 2011
Centre d'Esneignement et de Recherche en Environment Atmosphérique

The Centre d'Esneignement et de Recherche en Environment Atmosphérique simulation doesn't look good for Vancouver

A French atmospheric-research organization has created a "simulation map" suggesting that the North America's west coast has higher cesium-137 levels than western Japan.

The Centre d'Esneignement et de Recherche en Environment Atmosphérique presentation leaves the distinct impression that cesium-137 from the Fukushima 1 nuclear plant has reached the Metro Vancouver area.

Along with caesium-134, iodine-131, and strontium-90, caesium-137 is one of the isotopes released in nuclear-reactor accidents that are considered to be a threat to human health.

According to CEREA, the simulation was "performed with a specific version of the numerical atmospheric chemistry and transport model Polyphemus/Polair3D".

It added: "The magnitude of the deposition field is uncertain and the simulated values of deposited radionuclides could be significantly different from the actual deposition. In particular, the source term remains uncertain. Therefore, these results should be seen as preliminary and they are likely to be revised as new information become available to better constrain the source term and when radionuclides data can be used to evaluate the model simulation results.

Follow Charlie Smith on Twitter at twitter.com/csmithstraight
Fukushima exceeds Chernobyl in radiation level
2011-09-01
BEIJING, Sept. 1 (Xinhuanet) --A map drawn up by the Japanese Government shows, that soil at 34 spots in six Prefecture municipalities around the Fukushima power plant, are contaminated with radioactive cesium. These levels are higher than the Chernobyl disaster standard used for forcible evacuations.
A soil contamination map released by Japan's Education, Culture, Sports, Science and Technology Ministry, shows six municipalities have more than 1.48 million becquerels of cesium 137, per square meter. Most highly contaminated spots are mainly 40 kilometers northeast of the nuclear plant.
Some experts say it will take at least a couple of decades for some residents to return to their homes. Meanwhile, a man who worked for a week in August at the Fukushima nuclear plant has died of acute leukemia.
But TEPCO says his death was not caused by radiation, since he had external radiation exposure of 0.5 millisieverts, less than 5 millisieverts, which is the benchmark set by the Health, Labor, and Welfare Ministry.
(Source: CNTV.cn)
Fukushima cesium 'equals 168 Hiroshimas'
Official figures compare radioactive cesium at Fukushima with World War II blast.
August 25, 2011
The amount of radioactive cesium-137 that has so far been released by the Fukushima Daiichi nuclear disaster is equal to 168 Hiroshima atomic bombs, according to government estimates.

Cesium-137 is a radioactive isotope of cesium, and is the principal source of radiation in the dead zone around the Chernobyl nuclear power plant.

In a report on Thursday, the Japanese daily Tokyo Shimbun said the government calculated that the amount of cesium released in the six months since the three reactors were hit by the earthquake and tsunami is 15,000 tera becquerels.

In comparison, Little Boy , the World War II bomb dropped on the western Japanese city of Hiroshima, released 89 tera becquerels.

The figures were submitted by Prime Minister Naoto Kan's cabinet to a lower house committee.

But despite the estimate, nuclear experts say it is impossible to properly compare the reactor meltdowns at Fukushima with the dropping of an atomic bomb, which was designed to inflict damage.

9/11 Ten Year Anniversary Vancouver events

http://www.meetup.com/9-11-389/events/32177802/?a=me1.2o_grp&rv=me1.2o

Sunday, September 11, 2011, 11:45 AM

Georgia Street @ Howe Street , Vancouver , BC ( map )

Georgia St. side of the Art gallery, look for the Truth Bus and Tent

September 11th will be an "Umbrella Day" of like minded coming together and supporting and empowering each other.

We have joined forces with the organizers of the Zeitgeist Vancouver Group, who have put together quite a day of cooperation and unity including about 9 bands, 11 speakers and close to 30 groups with tents attending, it's a rainbow of causes being highlighted, from the Quest Food Drive to Forest Ethics, Sacred Salmon, Liberation BC, Vancouver 9/11 Truth, The Marijuana Party, it goes on.

Please check-out the festival web-site .

Please mark your calender and plan to be there and most of all please spread the word for us.
Cynthia Mckinney with the Vancouver 9/11 Truth Bus
Vancouver Premiere of 9/11 Explosive Evidence - Experts Speak Out (New AE911Truth.org documentary)
Watch Trailer:
9/11 - The Toronto Hearings Sept. 11th 2011
Haitian Farmers Commit to Burning Monsanto Hybrid Seeds
Beverly Bell
"A new earthquake" is what peasant farmer leader Chavannes Jean-Baptiste of the Peasant Movement of Papay (MPP) called the news that Monsanto will be donating 60,000 seed sacks (475 tons) of hybrid corn seeds and vegetable seeds, some of them treated with highly toxic pesticides. The MPP has committed to burning Monsanto's seeds, and has called for a march to protest the corporation's presence in Haiti on June 4, for World Environment Day.
In an open letter sent of May 14, Chavannes Jean-Baptiste, the Executive Director of MPP and the spokesperson for the National Peasant Movement of the Congress of Papay (MPNKP), called the entry of Monsanto seeds into Haiti "a very strong attack on small agriculture, on farmers, on biodiversity, on Creole seeds..., and on what is left our environment in Haiti."[1] Haitian social movements have been vocal in their opposition to agribusiness imports of seeds and food, which undermines local production with local seed stocks. They have expressed special concern about the import of genetically modified organisms (GMOs).

For now, without a law regulating the use of GMOs in Haiti, the Ministry of Agriculture rejected Monsanto's offer of Roundup Ready GMO seeds. In an email exchange, a Monsanto representative assured the Ministry of Agriculture that the seeds being donated are not GMO.
FOX News Reporters Fired For Telling The Truth
Clip from the movie 'The Corporation'
Full movie here: http://www.youtube.com/watch?v=bvPXR_6cn0s